In my last post, St Helena's submarine cable, I talked about the SAEx1 submarine cable that is going to connect St Helena to the rest of the world in 2020 using a 200Gbit/s link. In this post I'll talk about a fibre-optic cable that is lies much closer to the Falkland Islands – Chile's Fibra Optica Austral initiative.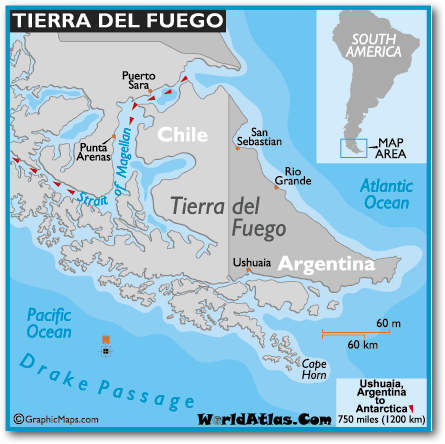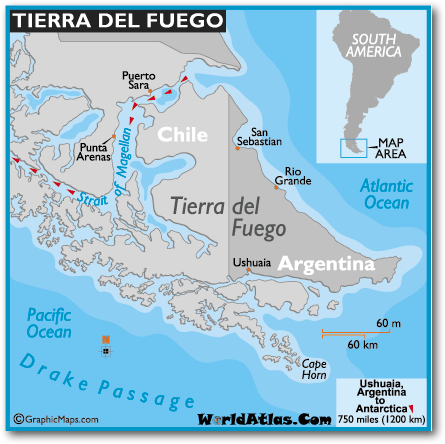 In February 2018 Chile has announced that work had begun on the USD 100 million 'Fibra Optica Austral' (FAO) project to roll out nearly 4,000 km of fibre-optic infrastructure in the Patagonia region. The aim is to boost telecommunications in that underserved region of Chile.
If you are unfamiliar with submarine cables, watch this YouTube video.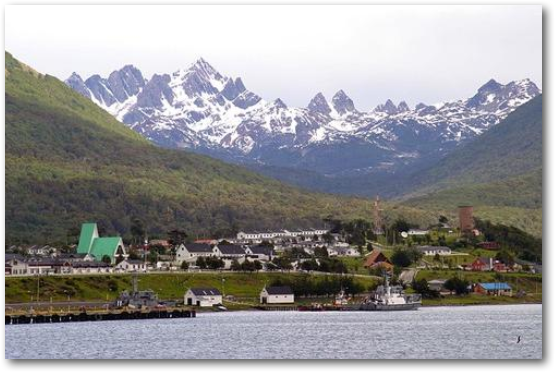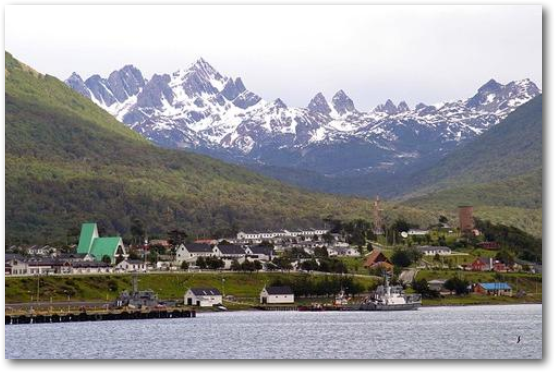 The cable is a mix of terrestrially laid cable with sections of undersea cable as shown in the map below. The submarine fibre optic cable, the first to be built in Chile, will go from Puerto Montt to Puerto Williams, a small town located at the southern end of the country just south of Ushuala, with almost 3 thousand kilometres of cable at a cost of 100M$. Once the tender for the project was settled, the Government established a period of 26 months for the deployment of the fibre optic infrastructure.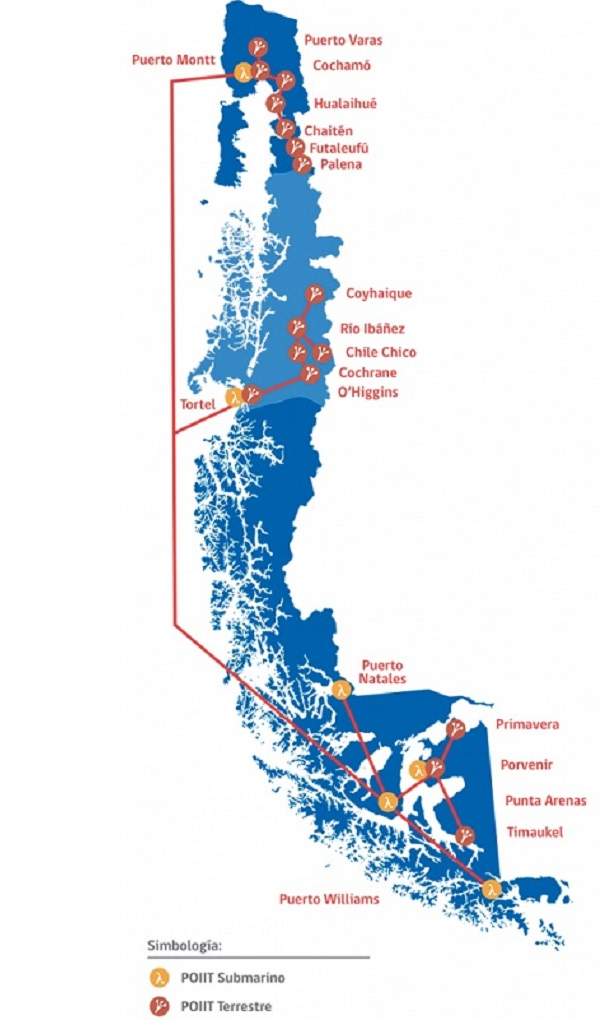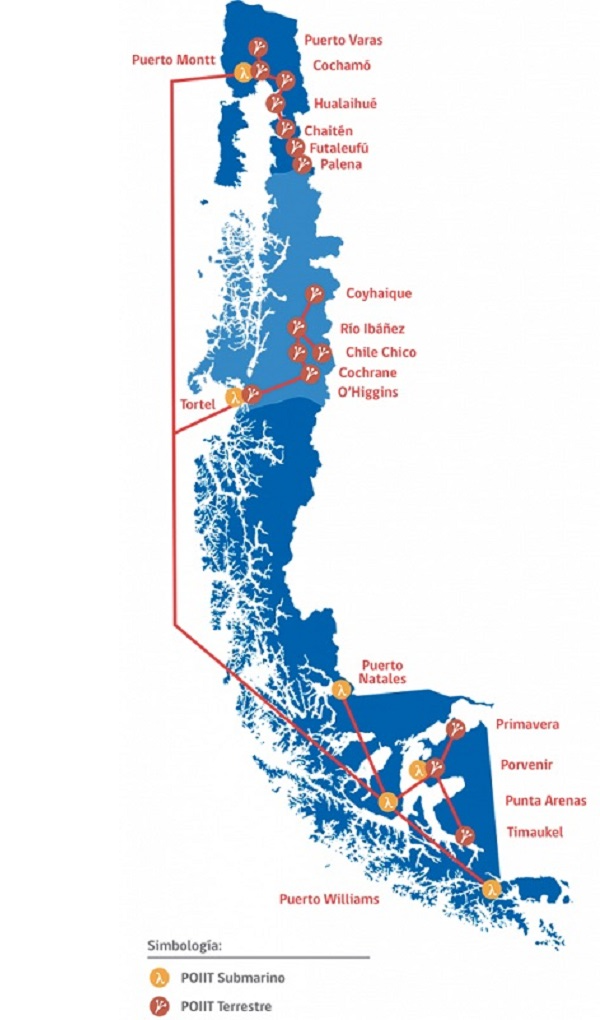 The Chilean company 'Communications and Rural Telephony' (CTR) cable is being built by Huawei Marine and extends to 2800 kilometres, have a capacity of 16Tbit/s (16,000,000Mbit/s) with an estimated cost of $100m. The estimated completion date is 2010.
Installation of Fiber Optic Austral by Orange Marine is underway:
"On 4 January 2019, at around 9:00pm, the Orange Marine cable ship Rene? Descartes sailed around Cape Horn at 56°00' latitude south and 067°16' longitude west. The ship began by laying submarine cable on behalf of CTR, a Chilean operator, with the landing of the FOA (Fiber Optic Austral) at Port Williams. This Chilean village is the southernmost port in the world, located on the banks of the Beagle canal in the extreme south of the South American continent".
To use a much overused expression, it is always worth 'thinking outside the box' so could Fibra Optica Austral be extended to the Falkland Islands as there is no other 'game in town' as far as undersea cable links to the Falklands are concerned.
The shortest route for possibly laying an submarine cable to the Falkland islands would be through a stretch of sea called 'Canal Beagle starting at Puerto Williams where Fibra Optica Austral terminates.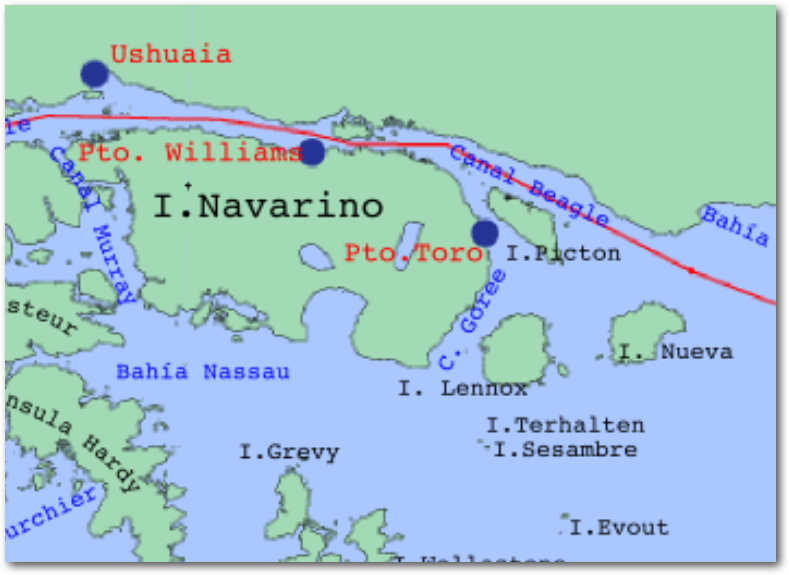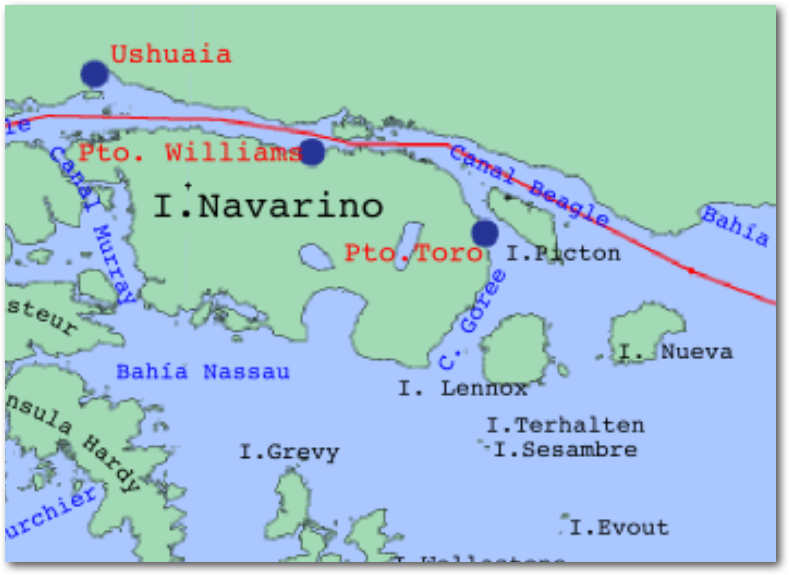 This route is estimated to be just over 700Km in length and can be seen in the map below. There could be significant challenges in laying and maintaining a cable due to unpredictable winds and sea currents. Also, more cost would probably be required to increase the cable armouring in this busy shipping lane and other issues that might arise from its location.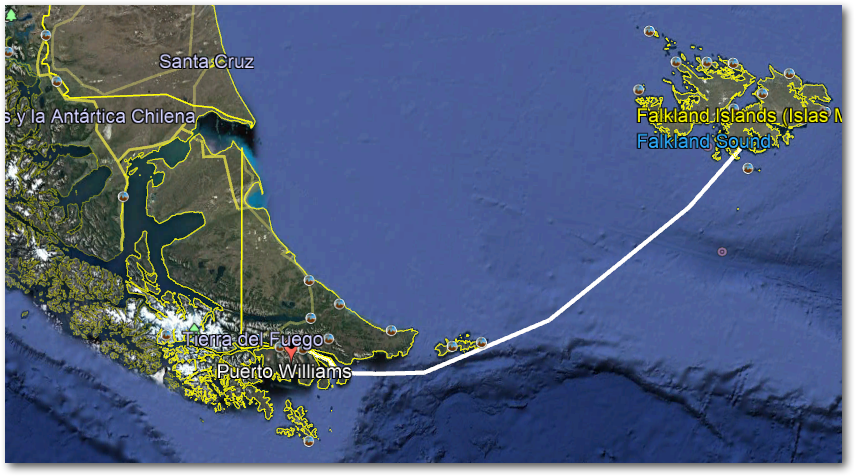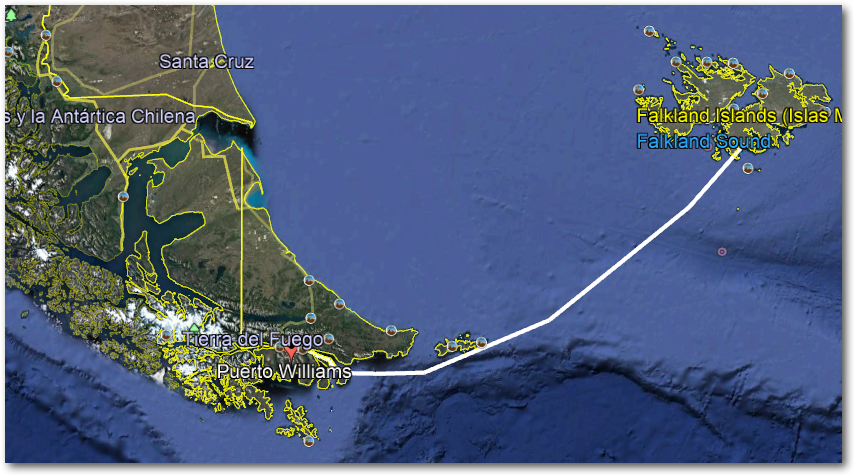 A possible path from Puerto Williams to Lafonia, Falkland Islands.
The estimated costs of a submarine cable to the Falkland Islands from Puerto Williams
This is very much a 'finger in the air' calculation based on industry standard prices (in 2019) but it does provide a reasonable guide to what the costs could total. It no way does it attempt to accurately cost the provision a cable which would require detailed planning.
Activity
Cost
Hire of a cable ship to ship the cable to the region:
$60k per day for (say) three weeks.
$1m
Hire of a cable ship to lay cable:
$60k per day for (say) three weeks.
$1m
Cost of submarine cable @ $30k / kilometre (700M)
$21m
Cost of repeaters every 70km @ $150k each
$2m

Whether repeaters are required is a moot point as it depends on the data rate required, however because of the distance, several may be required. Note: Repeaters  are undersea  amplifiers. The higher the data rate on the cable, the more repeaters are required.
I have not attempted to cost on-going operation costs (OPEX) which would could cost hundreds of thousands of $ annually plus the very high cost of repairing cable breaks which could amount to 1$m per break.
My observations are:
#1:  Puerto Williams in Chilean Tierra del Fuego will be the nearest connection possibility for a submarine cable for the Falkland Islands. A possible roughly plotted path  would be around 700Km in length using international waters.
#2: Unlike the SAEx cable, where the cost of maintenance is split between all the users on the main South Africa to Brazil link, a cable for use by the Falkland Islands exclusively means that there is a 100% financing burden on the islands. Moreover, because of the low number of inhabitants it would, I believe, be impossible to create a workable business plan.
#3: A dedicated cable to the Falkland Islands would not have any in-built diversity and a break could would be disastrous unless there was satellite back-up available.
#4: If cable was laid, there would be a hefty back-haul charge to carry the Falklands Internet traffic through Chile.
#5: Whilst strictly to the letter of the law, the cable only needs to be only 12 miles off shore to facilitate repairs there could a goodly number of political issues to manage.
#5: It is probably not sensible that a serious evaluation about laying a submarine cable be undertaken at this time. The high capital and operational costs combined with the low on-going financial return from the island's small user community effectively rules out this particular technology for the near future.
However, in saying this there would be nothing lost, and possibly much to gain, if FIG discussed the possibility of such an extension with Subtel in Chile as part of a coherent island connectivity strategy if only to truly rule it out as an option.
It is intriguing though!
Here is an insightful comment by Christian Frhr. von der Ropp, Senior Consultant, Interconnexion & Subsea at InterGlobix who was a driving force in getting a branch from SAEx submarine cable into St Helena.reposted from LinkedI
The political issues aside, there are several implications of laying a cable from Puerto Williams to the Falklands: As you already mentioned the Falklands would bear the sole responsibility for some 900km of cable through shallow and narrow straits with often rough weather conditions and far away from existing repair depots/base ports which could result in long outages in case of a cut. But connectivity would also be reliant on another 2000km of submarine cable from Puerto Williams via the Fibra Óptica Austral system to Puerto Montt along the seismically dangerous Atacama Trench substantially increasing the already high risk profile.

What would make sense is closing a ring around Latin America by a branch from Seaborn Networks' ARBR cable to the Falklands and from there onwards to Puerto Williams. That would add redundancy for all involved parties and facilitate the business case, but I fear that due to the political tensions between the UK and Argentina over the Falklands such project remains impossible for the time being.
Breaking News:
At the first public session of FIG's "Telecommuncations Week" in mid-March 2019, it was mentioned that a "cable proposition is currently being explored". Is this the cable discussed in this post I wonder? We will see.
Of course, there are other more expensive options such as laying a cable to Uruguay near the principle city of Montevideo at Maldonado where the UNISUR cable lands or the from Seaborn Networks' ARBR cable mentioned above but these would be far, far more costly. However, one should never say no!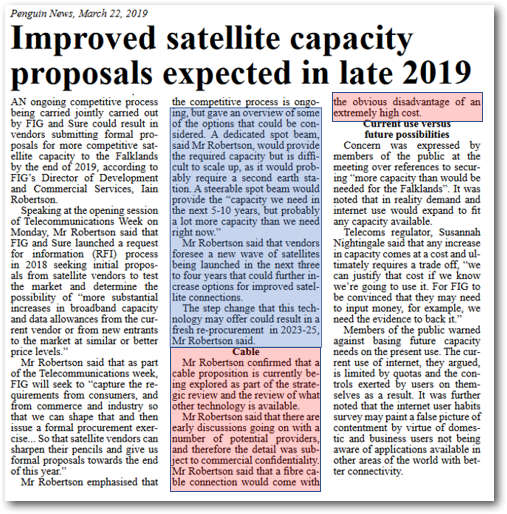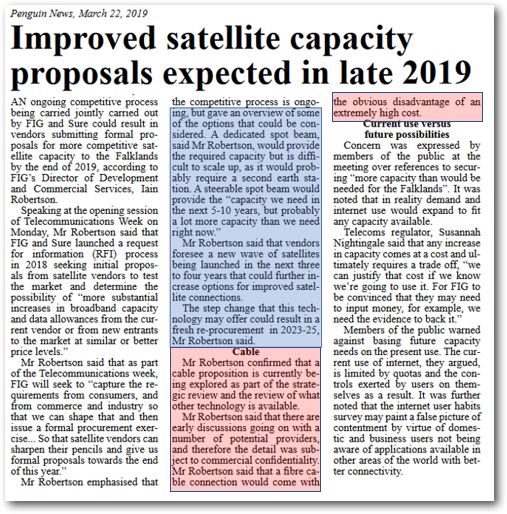 Penguin News, 22nd march 2019
Chris Gare March 2019 Copyright: OpenFalklands