I have been talking about the Falkland Islands taking an Exponential Approach rather than taking an Incremental Approach to improving Internet services in posts such as The Enigma of the Falkland Islands National Broadband Strategy or as I would like to call it, National Internet Strategy. Is this such an outrageous approach to adopt? I think not,  I'd like to show how some other small islands have taken this adventurous approach with a passion and with great to success to the benefit of their islanders. Top of the class are the Faroe islands.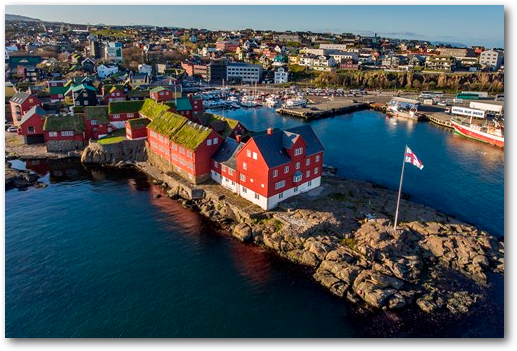 The Faroe Islands are located near Icelend and here is a short 10-minute video by the Jan Ziskasen, CEO of Faroese Telecom which I think you will find it exceedingly inspiring. It shows what can be achieved with the right approach and attitude.

Here are a few quotes from the video.
"We have done what we have done not because it makes business sense but because it is the right thing to do".
"We do not want to be on par with any other country; we like to be ahead".
"It should be possible to do the impossible".
"We want to be #1 so why limit ourselves?".

"We are not settling for 1Gbit/s as everyone else does but 10Gbit/s to every home.

"We want to be the first country in the world to deploy 5G and have already achieved 1Gbit/s download in the labs".

"We have 100% geography coverage and 4G mobile and coverage 120kM out into the sea".
Jan Ziskasen, CEO of Faoese Telecom, Artic Circle 2018 Assembly
Taking an exponential approach was certainly risky for the Faroe Islands but where will this place them in the modern connected world? Guess what they believe? I can only agree.
Yes, the Faroe Islands have a population of 49,750 making financing easier than the Falkland islands, and their geographic location makes connecting to the wider world easier but so what?
It's not about technologies, or "can the island afford it" or "if we increase capacity will it be used", but the attititude they take and I really, really like that. It's an attitude of 'can-do'; "we want to be the best" and "we will be the best". Organisations that take that view usually succeed in their visions. I love it.
Don't you think every isolated island should have this vision, attitude and ambition?
Chris Gare, April 2019 Copyright: OpenFalklands.com