I've seen many Facebook posts and heard many comments made over the years expressing the desire for Sure Falkland Islands to offer data 'Carry-Over' or 'Roll-Over' of unused monthly broadband usage quotas rather than expiring. Nobody likes losing something they've paid for.
With the high cost of broadband services, this could be an appropriate option to implement on the Falkland Islands' broadband service. Data Roll-Over is becoming quite a popular option for Mobile Network Operators around the world and there are no practical reasons why it should not be considered for use in the Falkland Islands. Picture: 4G.co.uk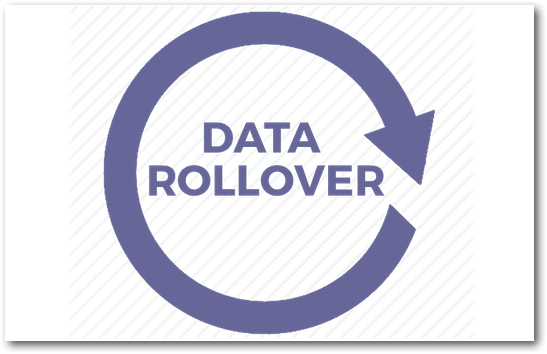 The cost of broadband packages in the Falkland Islands
For readers who do not reside in the Falkland Islands, you may not be aware of the exceedingly high monthly cost of broadband. There are lower cost Starter, Lite and Bronze packages suitable for lighter use, increasing in price to the Gold and Platinum packages that are more suitable for businesses.
Source: Sure Falkland islands' web site
If users run out of quota they can purchase data boosters: 1GB (£15), 3GB (£45) and 5GB (£75) which are 3.75x the cost of 'normal' megabytes and they can buy only one data booster a month.
Therefore islanders do not want to waste any costly megabytes if they can avoid it.
Some approaches to avoid wasting unused quotas
Listening to the anecdotes of Internet users trying to manage the issue can be very enlightening.
For example, if users are away on holiday or business for a few weeks, they downgrade their broadband package for the period they are away. Another method is to give their family or friends their log-in details including password so they can use up their quota at a Wi-Fi hotspot. Even more inventive or extreme is to lend their modem to a friend or family for them to use at their house in their absence.
It's is amazing how creative people can be when required.
End of month frustration
I just can't imagine what the frustration level is like on the last few days of the month for a normal Falkland Islands' family.
On one hand they do not want to lose unused expensive megabytes, but on the other hand they do not want to experience a hard cut-off by Sure Falkland Islands and undergo the hassle caused by a day or two with no Internet or spending money on expensive top-up packages to get them to the end of the month. This protocol was introduced to prevent what was called 'bill-shock' when large bills were received if users overran their monthly package quota.
I still believe that this approach is a bit of a sledge-hammer-to-crack-a-nut solution that was originally proposed by the Cartesian consultants in their 2015 report. Though I do clearly acknowledge that bill-shock has been removed which is a good thing.
"We recognise that executing any of the proposed billing initiatives will be determined by the capability of Sure's billing systems. As part of the Price Cap and Customer Protection regulation to reduce bill shock we propose that Sure presents potential solutions to FIG. Select examples are as follows: Cut off service: Once the cap has been exceeded by a pre-defined level (e.g. £50) the user would be cut off or severely throttled, and would need to opt-in to incur out of bundle overage charges."
How do islanders manage all the family's Internet browsing, Facebook updating, messaging and downloading to use up 99.99% of the monthly quota without hitting the hard cut-off or buying a top-up?
I have absolutely no idea how this could be managed, other than disconnecting the broadband modem, without screams from the children! Though one practical solution adopted by many is the use of Gargoyle Router which enables families to tightly control usage, set quotas for individual family members and optionally throttle usage. Note: I would recommend that advice on its use should be sought before trying to install it on your router.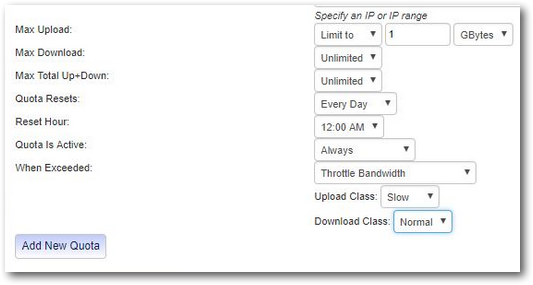 One of Gargoyle's menus setting limits to broadband activities
I understand the use of Gargoyle has significantly reduced family fights as the children (mostly teenagers) all know that they have individual quotas that they can use up on the first day of the month or spread it out over the month.
Some Roll-Over policy benefits
There are quite a few benefits for consumers in having a Roll-Over policy of their fixed and mobile data services. Here are the main ones:
Clearly, it prevents wasted megabyte and wasting money.
It lets you plan ahead and save data for busier months.
It makes you less likely to run out of data and pay extra charges.
It means you can choose a package with just the right amount of data without having to buy a more expensive package just to ensure that you do not run over the quota limit.
An example of Roll-Over policy: Sky Piggybank
Roll-over is getting to be quite a popular feature with mobile phone operators and here is an f example:
With Sky Mobile, your data is yours to keep.
At the end of every billing period, we'll automatically roll over whatever's left into your Sky Piggybank for you to use whenever you like.
You can also cash in your unused data for a range of rewards.
Other mobile operators in the UK offer Roll-Over options; O2 and Virgin mobile, iD Mobile, Vodafone, EE and O2in the UK.
What is involved in implementing a Roll-Over policy
There are several things to consider when talking about the possible implementation of a data Roll-Over capability for Falkland Islands' broadband services.
Sure Falkland Islands' billing and quota management systems.
A question was asked about Carry-Over at the Communications Week event in March 2019:
It's currently an easily automated calculation for Sure Falkland Islands' bill and quota management systems to check whether a customer is getting close to their monthly quota. It knows what broadband package they use so they simply compare their measured monthly usage with their package quota as the basis of their calculations and alerts.
However, if Roll-Over was allowed, then customers' measured monthly usage would need to be compared to the standard package quota plus the overrun amount each month. In practice, this would not require major technical enhancements to the billing and quota systems or be challenging to develop in my opinion.
Twenty years ago, most telecommunications companies built and managed their own bespoke billing software and this was always used as an inhibiting factor for introducing new services. I heard this so many times in Cable & Wireless entities around the world in the 1990s.
That is not the situation today as most operators buy in off-the-shelf 3rd party billing solutions which they then tailor specifically to their needs. Indeed, Sure South Atlantic have recently updated their billing systems according to The St Helena Independent newspaper dated 15th December 2017, As I understand it, Sure South Atlantic has now implemented a centralised billing system for all of Sure South Atlantic islands which will "provide Sure with significantly more flexibility in responding to competitive pressure".
Of course, in a monopoly scenario like the Falkland Islands "consumer pressure" should be substituted for "competitive pressure".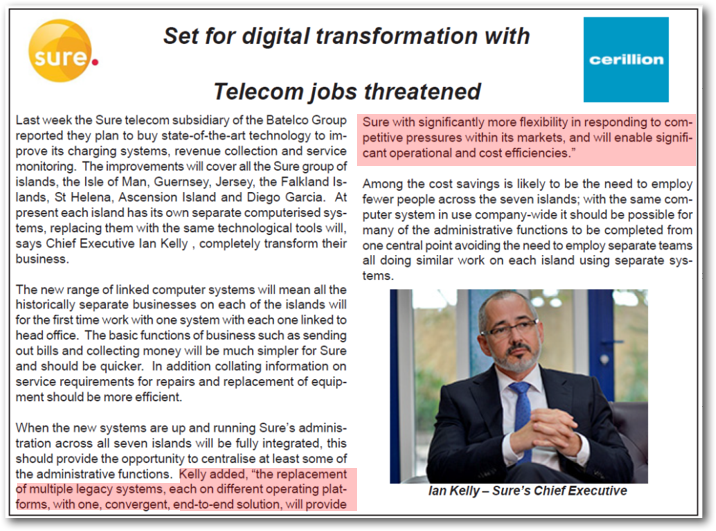 It should also be remembered that Sure Falkland Islands do have the discretionary ability to change parameters in their billing and quota systems if they so wish – the recent global 10% increase in quotas following the several-hour outage in April and the free Islands Games service a while back and streaming trials are but three recent examples.
Possible increased congestion
It could be thought that Roll-Over of unused data could create extra usage of the Internet in the following month if a majority of users did this. All this extra usage could lead to unpredictable additional congestion and slow-down due to the limited 210Mbit/s capacity of the satellite connection to the global Internet.
With no Roll-Over policy, the levels of usage are reasonably straightforward to predict and manage to keep broadband service available to all no matter how slow it is running. A Roll-Over policy could bring unpredictable levels of extra traffic that could have unforeseen consequences.
I have been thinking quite a bit about this recently and I've even undertaken some simple calculations about whether additional congestion would be the result of implementing a Roll-Over policy. If, for example, only one month of Roll-Over was allowed then I do not believe there would be any additional congestion generated as things would balance out. Most operators offering Roll-Over have a considerable number of conditions to make sure that it will not impact their technical and financial performance.
Possible Roll-over option limitations
Implementing a Roll-Over option could involve some usage limitations – here are a few;
Roll-Over data might be available for just one month and expire at the end of month two.
Roll-Over data might only be available up to a fixed gigabyte limit.
Roll-Over data will expire if you don't pay your bill on time.
Roll-Over data might not include top-up data.
Roll-Over data might only be made available on smaller broadband packages.
Roll-Over thoughts
It has to be admired that a considerable amount of work has been undertaken to avoid 'bill-shock' with the availability of cut-off and top-up packages for high-usage data customers. Roll-Over represents the other side of the coin and is more aimed at low usage customers and will be much more applicable to those who have chosen to use lower monthly cost packages for financial reasons.
As stated by Sure Falkland islands in Communications Week, it could be implemented if there were a desire and pressure from the customer base and/or government to implement Roll-Over. In my opinion, there are no insurmountable software, system or operational barriers preventing its implementation if appropriate resource and finance were applied.
I am not saying that Roll-Over should be implemented as this is down to local stakeholders and community of broadband users to consider. I also think it is a much lower priority requirement than removing quotas for on-island data traffic that would be required to encourage local Internet entrepreneurship.
As in all things, there is nothing stopping Sure Falkland Islands implementing a Roll-Over policy as an innovative way of helping their customers. At the end of the day, it is a purely commercial decision.
It is certainly something interesting to talk about and consider.
What do you think?
Chris Gare, May 2019 Copyright: OpenFalklands.com