Update: 12th June 2019
In regard to the footnote, the old Roaming Partner list has now been deleted from the Sure Falkland Island's web server.
---
I have written about Falkland Islands' mobile services in my posts about the issues concerning overseas' SMS texts, Two-Factor Authentication and the background to the new 4G service. In this post, I'd like to focus on roaming as it is such a core mobile telephony service.
I touched on roaming in one or two of them and Star Solutions, the company that installed the 4G infrastructure, in their website announcement state that it will support inbound and outbound roaming.
"The network will be integrated to support inbound and outbound roaming as well as offer pre- and post-paid billing to its customers."
This is nothing unique to the Falkland Island's 2G/4G service in this statement, as roaming is a core feature of any Mobile Network Operators' (MNO) service.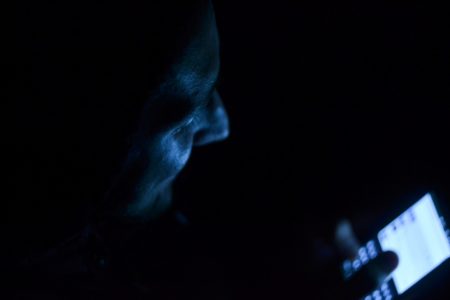 What is roaming?
I'm sure that most users of mobile phones understand what this means so it feels it like 'telling Grannie how to suck eggs' by saying that it is the ability to use your phone or smartphone in another country while travelling. This capability often has a lot of 'baggage' and 'bad press' going along with it as the charge for roaming services can seem like daylight robbery to many! This is particularly true for data usage as we have all learnt the hard way!
Roaming involves two networks. The first called the Home network. This is the network in the Falkland Islands managed by Sure South Atlantic (Sure Falkland Islands). All users of this service are registered on it in the Home Location Register.
The other network is called the Visitor network and this is the network that is used by Falkland Islanders when visiting an overseas country. In telecommunications parlance, you are called Subscribers.
Roaming Agreements

Roaming doesn't happen automatically and solely relies on negotiated Roaming Agreements between the Home network operator, Sure Falkland Islands, and selected Mobile Network Operators in every other country that islanders might want to operate their phone in.
The organisation that has standardised Roaming Agreements and manages such arrangements is the GSM Association (GSMA) based in the UK. Note: GSM is the technology behind digital telephony.
The GSMA create the boilerplate Agreements which are then tailored by the parties to suit their service, legal and financial needs.
The main points to bear in mind is that the Agreement specifies what services can be roamed and how financial sharing is arranged. Usually, this is only available to subscription customers. The price you pay to make a call is shared between the Home and Visitor network operators and whatever 3rd party networks are required to connect them.
How does international roaming work?
This is a horribly complex and I have no intention to go into details here you will be pleased to hear.
Simply put, when you visit another country and switch on your phone, if there is a Roaming Agreement in place with one of the Mobile Network Operators in that country, the Visitor Network will try and identify the phone and if it is not found in its own Home Location Register (HLR), it will try and identify the Home network of the phone.
If there is no Roaming Agreement in place between the two operators, then registration on the Visitor's network will be denied.

Credit: GSMA
If there is a Roaming Agreement in place, the Visitor network will contact the Home network and requests it to send the information required to allow call placement and hence billing to take place. This also includes information about whether the subscriber's package allows it to roam or not.
Each user is identified by what is known as an International Mobile Subscriber Identity (IMSI) number which is passed between the Home and the Visitor network.
If all goes well, the Visitor and Home network will set up appropriate call-routing information so that calls can be correctly routed between parties when made. Sometimes this can go horribly wrong.
We should not forget that there needs to be compatibility between the Home and the Visitor networks both in the technology used such as 2G/3G/4G AND in the wireless spectrum the roaming phone uses. For example, a 4G phone falls back to 2G if there is no local 4G service and no 'signal' will be found if there is no spectrum compatibility.
Where can Falkland Islanders roam?
I guess this is where the title of this post comes from as Falkland Islanders are currently in the dark about where they can roam using this important and core service.
Guidance for visitors to the island can be found on the Falkland Islands Tourist Board (FITB) web site:
"The Sure website has an up-to-date list of roaming Partners. Ensure in advance that roaming is activated."
However, the list of countries that Sure Falklands Islands has Agreements with is not to be found on their website and this would the natural place any visitor would go to.
However, my research showed that the subject of roaming was mentioned ten months ago in the August 10th 2018 Penguin News and this can be seen below.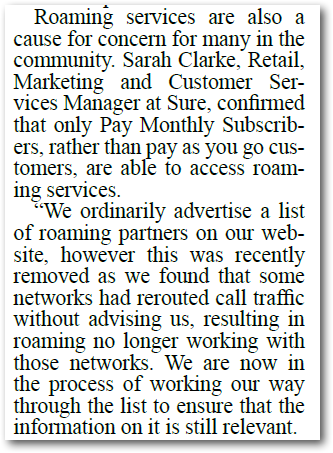 August 10th 2018 Penguin News
I hope that that the rerouting issues referred to have been corrected and that the list of Roaming Partners can be re-posted on the Sure Falkland Islands' web site again soon.
The other telecommunications industry site that could be visited to ascertain what Roaming Agreements Sure Falkland Island has in place is the Mobile World Live web site which is supplied with its network data by the GSMA.
The network standards used on the Falkland Islands has not been updated on the site to include 4G, but there is a list of Sure Falkland Islands Roaming Agreements – if this is up to date and correct.
This is listed as the Roaming Agreements for Sure South Atlantic, not Sure Falkland Islands, so it is rather confusing as Sure South Atlantic includes Falkland Islands, St Helena, Ascension and Tristan da Cunha.
Roaming in St Helena, Ascension and Tristan da Cunha
Interestingly, looking up Saint Helena on the Mobile World Live website which, you would think, have the same list of Roaming Partners and Agreements as Sure Falkland Islands states:
"Sure South Atlantic (St Helena & Ascension Islands) Ltd (Sure) has not declared any active roaming agreements with other network operators to the GSM Association."
Sure St Helena, in their roaming guide, says that overseas Roaming is only possible with:
Sure Falklands
Vodafone UK
Telefonica
O2 UK-Softbank Japan (JNPJP)
Softbank Japan (JNPEM)
This is an extemely limited and arbitary list of countries!
This is very confusing as you would expect that all Sure South Atlantic Islands would have the same Roaming Agreements in place? I would have expected all the islands' Roaming Agreements to have been negotiated centrally for efficiency reasons. However, it looks like this is not the case and all the islands are still negotiating with overseas Mobile Network Operators independently of each other as seems to be the case in regard to SMS text messaging.
Now that the Falkland Islands has a 4G service, all the Existing Roaming Agreements need to be updated to allow data roaming for all those nice new smartphones Falkland Islanders are buying and for all those island visitors who own 4G phones.
I look forward to seeing the list of Roaming Partners again shown on Sure Falkland Islands' web site.
What voice roaming issues have you noticed in recent years?
* * *
p.s. The withdrawn Sure Falkland Islands' Roaming Partner list is still live on their web site and can be found here. It will be out of date so I would certainly not rely on it, but if you want to see it you had better be quick because I doubt it will be there for long!
Chris Gare, June 2019 Copyright: OpenFalklands.com